ABSS Payroll Malaysia
06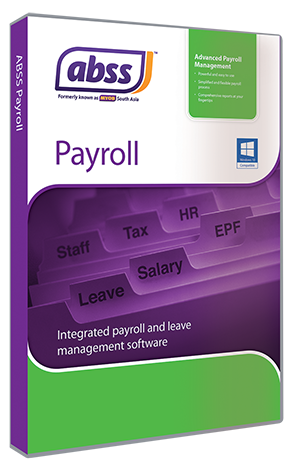 ---
Single user licence
Cannot add user licences

Windows 7/8/10
Malaysian employment compliant
---
ABSS Payroll is a fully compliant solution for Malaysian Employment requirements. It automatically calculates:
EPF
SOCSO
PCB
Overtime
User licences
This product option is for one user licence only, and you cannot add user licences.
Support and upgrades
When you initially purchase ABSS Payroll, you will receive 30 days introductory support from ABSS as well as from Deltatech.
Business Support
You can choose to purchase the Business Support plan which will entitle you to free upgrades if any are released and technical support for a period of one (1) year.
Upgrade Cover
There is also an Upgrade Cover option which entitles you to free upgrades if any are released during your subscription period. Note that the Upgrade Cover option does not include technical support.
---
Value added services
---
Free
installation
---
---
Free setup of
one company file
---
---
90 days
Extended support
---
Installation and setup will be carried out remotely over the internet.
Support will be through phone, email and remote access.
---
Operating System:Windows
User licences:Single user
Upgrade & support options
No Business Support or Upgrade Cover (0) Upgrade cover (no technical support) for one (1) year (319) Business Support (upgrade + technical support) for one (1) year (999)
---
Why buy ABSS online from Deltatech?
What you get when you purchase
ABSS online from Deltatech
When you purchase from us you will receive the following services absolutely free:
Free installation
If you require assistance with installing the software, we will assist remotely.
Just let us know when you are ready, and we will login to your PC (with your permission of course!), and do the necessary
Free setup
Need help with setting up your company file?
We will help you setup one company file and you will be able to start working from day one!
No need to worry about preferences, settings, etc. With our 19+ years experience with MYOB/ABSS, we set it up for you so that you can login and start working from day one!
90 days extended support
Your initial purchase of ABSS comes with 30 days introductory support.
If you are new to ABSS, this may not be enough.
When you purchase online from us, we give you an additional 60 days extended support.
You can reach us Mondays to Fridays from 10:00am to 5:00pm through email and phone.
Exclusive feature!
As a valued customer of ours, you will receive one (1) year access to our knowledge base.
This contains articles and tips on using MYOB and is accessible to you 24 x 7 x 365!
Value added services are NOT applicable to ABSS AccountEdge